Looking for the best ethnic wear outfits? The most awaited festive season is here. And the best thing about the festive season is getting the chance to dress up. Everyone wants to look attractive, pretty, and gorgeous on every occasion and your outfit plays an important role in this. A perfect outfit can add sparkle to your look and can make you look flawless.
There are many ethnic wear outfits you must have to try. Here, we listed trending ethnic wear outfits for you which give you a traditional look with a touch of modern style. Let's check out the best and trending ethnic wear outfits for this festive season.
1. Traditional Sarees
Saree is the first love of every Indian woman and is the most loved ethnic wear outfits. No matter if she is married or unmarried every woman loves wearing a saree. In a saree, every woman looks prettier than in any other outfit. There are countless patterns and varieties available in sarees. They are also available in different colors and designs.
For every occasion, there are different patterns of saree are available in every Indian women's closet. Heavily designed sarees for weddings printed sarees for parties and outings, silk sarees for the festive season, and many more. For many women, a saree is the ultimate sign of beauty and elegance.
Sarees are available in a variety of colors, styles, and designs so you can choose the perfect fit for yourself.
Cotton Sarees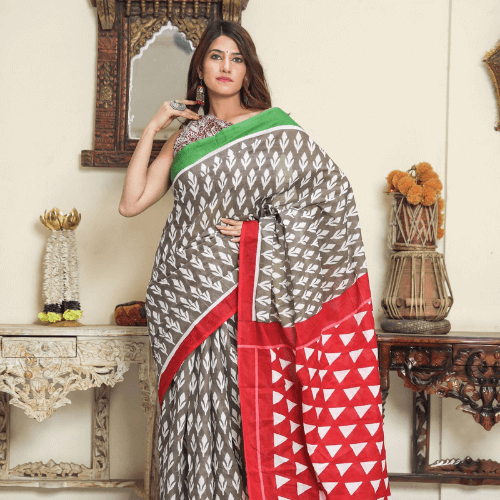 Cotton sarees are a type of most iconic garments that women wear in India. These sarees are one of the best ethnic wear outfits. When it comes to fabric, cotton is the best choice. One can drape cotton sarees over the body in various styles. The saree is a long, drape garment worn by women of India and neighboring countries.
Traditional and elegant, the beautiful cotton saree is perfect for any Indian woman looking to show off her culture and beauty. Cotton sarees are lightweight, breathable, and have a classic style, this saree is comfortable and perfect for any occasion. When selecting a saree, consider the occasion and style. You can't go wrong with this traditional and versatile garment. You can also pair gold jewelry or hair accessories with these sarees.

Georgette Sarees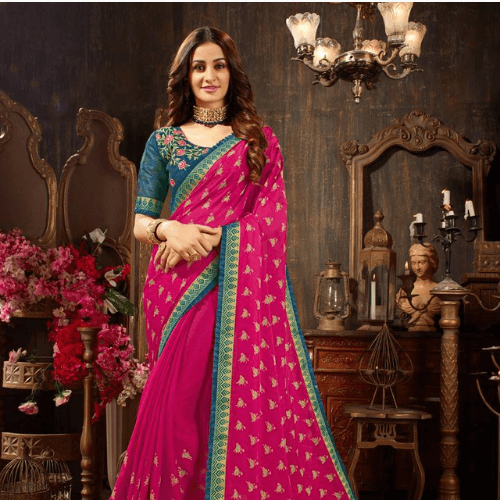 Georgette sarees are the best ethnic wear outfits for women. These sarees are famous for their rich, glossy fabric and cultural design. And are traditionally produced in India. These sarees are available in various colors, designs, and patterns so you can wear the georgette sarees for all types of events from weddings to parties to family gatherings.
Georgette Sarees are elegant, yet simple, and have lightweight fabrics that are perfect for any season. These sarees are elegant and look great on all body types. One can wear these georgette sarees with a blouse or a tank top underneath. The Georgette saree is a must-have for the modern woman.

Net Sarees
Net sarees are the perfect outfit for any occasion from a party to a wedding and they are one of the most popular sari styles in India. The saree is made of a lightweight fabric with a loose open weave. You can wear a net pattern saree anywhere and these ethnic wear outfits will give you the perfect ethnic look every time.
South Asian women traditionally wear net sarees, but nowadays women in many countries wear them. They are a popular garment in India and Bangladesh, where they are often part of the traditional Indian wedding ensemble. It is often woven with silk and embellished with embroidery.
Net sarees come in a variety of styles, including embroidery, floral, and block print. These sarees are easy-to-wear garments and any woman can wear them.

Silk Sarees
Silk sarees are the one that never goes out of style. Without these beautiful, traditional, and luxurious sarees, no wedding season is complete. Most of the brides wear Silk sarees at the wedding. These sarees are also available in a variety of patterns, colors, and designs.
Kanjeevaram, Mysore Silk, Banarasi Silk, Kosa Silk, and Ega silk are some of the most popular silk sarees that are famous among every Indian woman. These sarees are especially famous for their vibrant colors, unique patterns, and artistic designs. The designs and patterns on silk sarees are inspired by tribal stories and nature. In India, every state has its famous silk saree and each saree has its own uniqueness as per the culture of that state.
2. Salwar Suits
Salwaar suites are the traditional ethnic wear outfits in India. It is must-have apparel in any women's closet. Most women prefer salwar suits as they are comfortable and easy to carry out. You can wear these suits for any function from party to wedding. These suits are suitable to wear for women of all ages.
There are many types of patterns that come under the salwar suits such as Anarkali suits, Churidar Salwar suits, Sharara Salwar suits, Indowestern Salwar suits, Pakistani Salwar suits, and Patiala suits. And each salwar suit can add an ethnic touch to your look for any occasion.
You can wear all types of jewelry with these suits. Salwar suits are the most loved outfit by women. Salwar suits are the most casual and ready-to-go outfit that is famous among women.

Palazzo Salwar Suit With Straight Kurti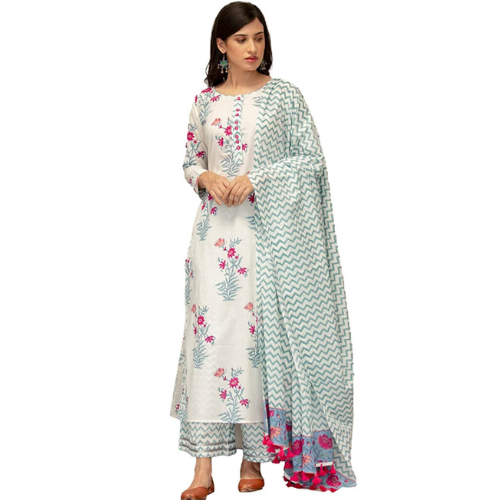 These days Anarkali Suit is the first choice of every bride. Palazzo Salwar Suits are the most loved ethnic wear outfits. A palazzo with wide hemmed bottoms adds sparkle to your look. With these Palazzo salwar suits, you can look graceful and stylish at the same time. The straight Kurti and Dupatta keep the balance between ethnic and modern styles. These suits are designed with heavy embroidery. You can also pair this lehenga with different kamiz. Classy earrings and high heels can complete your look.

Churidar Salwar Suits
Women in the Indian subcontinent traditionally wear the Churidar Salwar Suit which is ensemble beautifully. Churidar Salwar suits are the most popular salwar suits among womens these days. These suits traditionally include a long kameez with a tight churidar and a dupatta.
These suits are usually made of cotton or silk and have embroidery work on them. You can wear churidar suits during festivals and celebrations, but you can also wear them daily.

Sharara Salwar Suits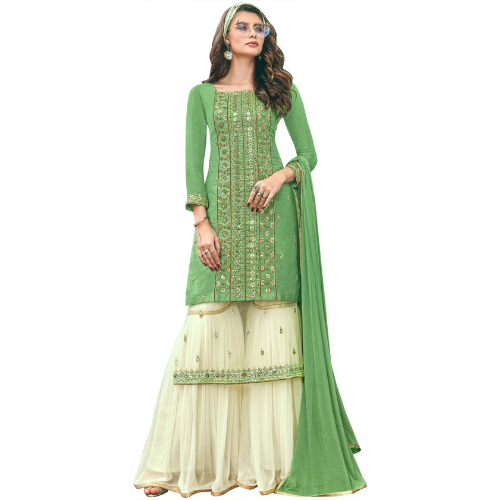 For all the beautiful women out there, Sharara Salwar Suits are must-have ethnic wear outfits! Sharara has a wide selection of the latest trends and styles. They offer a variety of fabric types and styles, including cotton, silk, and velvet.
Sharar salwar suits are designed to hug your curves and flatter your figure. This is the perfect way to show off your curves in style. The sleek and fitted design of these suits makes them the perfect option for all body types. These suits can make you feel like a million bucks.

Indo Western Salwar Suits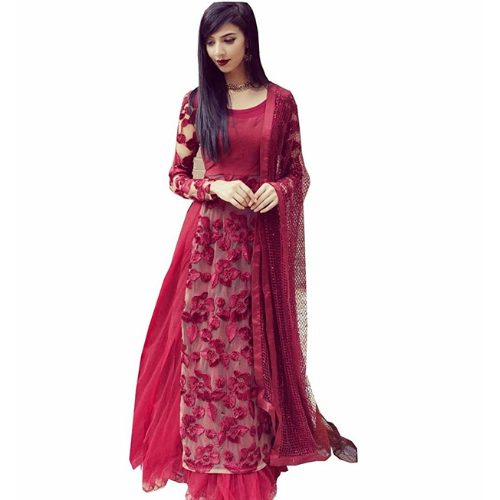 Indowestern salwar suits are the perfect pick for those womens who are looking for an outfit that is both stylish and versatile. This suit is a fusion of two different cultures and styles of clothing. The traditional Salwar Kameez is the traditional outfit of India, and the modern Western suit is the typical outfit of Western society.
The Indo Western Salwar Suits are perfect for any occasion and are made from the finest fabrics and materials. These suits are available in a variety of colors and styles so that the modern woman can find one that fits her unique needs. Indowestern suits are one of the best ethnic wear outfits in India.
Anarkali Suits/ Silk Salwar Suits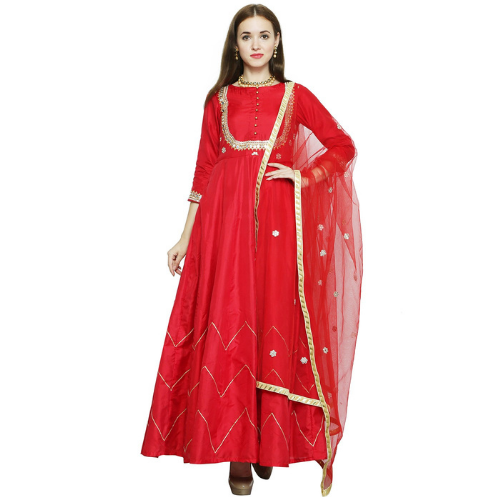 Anarkali Salwar Suits are the perfect fusion of eastern and western cultures. These suits are the perfect choice for any occasion. Made of chiffon, this Anarkali suit features a neckline that is both elegant and modest. The bodice of the suit is form-fitting and elegant, and the design of the skirt is to be slimming. These salwar suits are made with light and breathable material. The Anarkali suit is perfect for any occasion and will give you a look like a princess.

Patiala Suits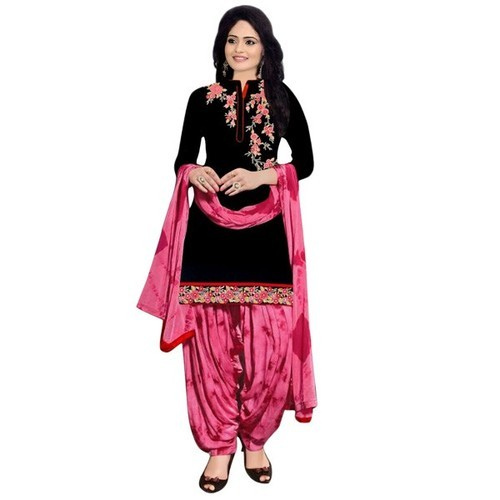 The Patiala Salwar Suits are traditional Indian clothing for women. Indian women traditionally wear these suits and are the best ethnic wear outfits of all time. This dress is characterized by its distinctive front pleats, which are created by pleating the fabric and tucking it into the waistband. The Patiala Salwar Suit is a long, loose-fitting garment with a wide bottom. The Patiala Salwar Suit comes in a variety of colors and designs.

3. Kurtis
Kurtas are the Indian traditional wear outfits that are loved by every woman. You can wear kurtas for any occasion like parties or weddings, also you can wear them on daily basis. These kurtas are made with cotton, silk, chiffon, etc. materials and are perfect for women of all ages. Kurtis comes in a variety of styles and designs so you can choose the perfect fit for this festive season.
Anarkali Kurtis
Anarkali Kurtis is traditional Indian clothing worn by women, typically as a dress. These kurtas are one of the best ethnic wear outfits in India. They are named after the wife of the Mughal emperor Akbar and traditionally have a long, loose fit. The fabric is often silk or chiffon, and the length varies from ankle-length to floor-length. The Anarkali Kurti is a traditional Indian dress that anyone can wear in different ways. It has a loose fit and a broad neckline.
Straight Ankle Length Kurtis
Straight ankle-length Kurtis is elegant and versatile. These Kurtis are the most loved ethnic wear outfits among women. With their beautiful cut, these Kurtis are perfect for wearing at casual events, and celebrations. With a wide variety of colors and prints, these Kurtis can match any outfit and any occasion.

4. Lehengas
Lehenga cholis are the traditional festive wear and the most loved attire by women of all ages these days. They come with different patterns and styles, also designs with beautiful embroidery and beads. One can pair this traditional outfit with a matching choli top, an embellished dupatta, and a churidar pajama. The garment is also adorned with beautiful, hand-made stones and sequins. You can wear it on special occasions such as weddings, parties, or any other special occasion.
You can also choose from the printed lehengas. These lehengas are the best ethnic wear outfits that you can slay with style and have traditional touch at the same time. The printed lehengas are not much heavy as lehenga cholis and are easy to wear and carry as compared to printed lehengas. They come with the latest designs and you can also wear different patterned blouses or crop tops with these printed lehengas.
5. Designer Gowns
Designer gowns for women are the best ethnic wear outfits that can add a glamorous as well as classy look. These gowns are the most graceful attire for womens and can be the perfect outfit for any party or function. Basically, gowns are long flowy dresses that are inspired by the sixteenth century's Royal European background.
These gowns come in different designs and are made with luxurious fabric which makes womens look extremely attractive in this attire. Gowns are the perfect combination of Indian and western styles. They are made from a variety of materials such as silk, georgette, chiffon, velvet, etc. Gowns are perfect ethnic wear outfits for the festive season or wedding season.


These are the best ethnic wear outfits that you must try once. We hope, the article helped you find the best ethnic wear outfits idea for the festive look. Let us know of any other outfit ideas that you know are best for the festive season in the comment section.
Looking for discounts on trending fashion brands and styles. You can visit online shopping stores like Karagiri, Myntra, Fab Alley, House Of Indya, etc. These online shopping sites offer various savings and discount offers for your shopping.
Enjoy Shopping Online!!